NEWS UPDATE – Yesterday, local radio amateurs tried working HF bands under the supervision of the TU5PCT team. They explained about pile-ups, SSB basics (split, UP5 , UP10 etc). It was a new experience for them, and they hope to hear them on the bands one day. Video credit Petr Spacil of Czech DX Team.
FEBRUARY 10 – Thanks to the partnership with the Foundation for Global Children and Zorro JH1AJT, we could again donate gifts – this time to the Azuretti local school. We approached Zorro before arriving at the Cote d'Ivoire with the idea of presenting gifts to a local school. He was so kind to support this idea. Our friend at TU, Mathurin TU5JZ, made arrangements in the school. We got a list of items which they need to improve their operation. Gifts were purchased and we could visit the school. All the children and the school management were thrilled to receive the gifts. The children were vibrant, and it was not easy to take photos, but they were natural, and it was very nice. We are happy to cooperate with the Foundation for Global Children to make children in need have an easier life. We have done a good deed and can help them.
FEBRUARY 7 – Pictures courtesy Czech DX Team. Online log is here 
FEBRUARY 6 – Lost item recovered, plus some info below about logging issue. Video by OK5Z:
TU5PCT at OK5Z QTH pic.twitter.com/88RuGSKgbo

— DX World.net (@DX_World) February 6, 2022
TU5PCT log issue:

"10m QSOs logged as 30m CW QSOs on Club Log streaming, but QRG is correct.
QRG correctly written in our DX log, unfortunately, there is an issue somewhere else. We are aware of it. Hopefully, it will be fixed, and we can rerun Club Log online streaming." pic.twitter.com/jDy5SbnCJb

— DX World.net (@DX_World) February 6, 2022
FEBRUARY 5 – Team arrived to Ivory Coast. One item of luggage missing. However, as per photos, they are beginning to set up (thanks OK6DJ for pics). 
Dates:  Arrival: February 4th, Departure: February 13th
On air approx: limited/building up February 5th, 6th, full operation planned from 7th till 12th , dismantling on February 13th
Call sign:  TU5PCT
Operators: Petr OK1BOA, Petr OK1FCJ, David OK6DJ.
Operation modes:  SSB, CW, RTTY, FT8
Antennas:
160 tbd/if QTH allows
80 60 40 30 verticals
20/17/15/12/10 2 x Spiderbeam
DX commander
RX log
Trcvr + PA:
K3,TS480, SUNSDR2DX, SUNSDR2QRP , 2 x PA JUMA, 1 x PA Expert, PA 300W out
QRG band plan: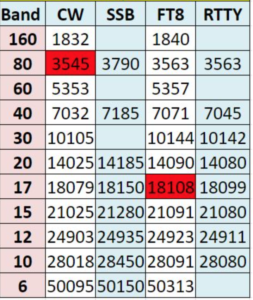 QSL via OK6DJ, OQRS, LoTW.